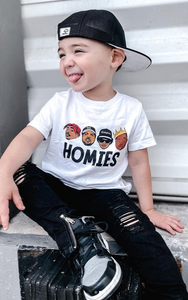 Legends are not born, legends are made...
Raising Little Legends is a tough job, dressing them shouldn't be!
Whoever said kids fashion was boring, clearly never shopped with us. Life is way too short to dress your minis (and yourself) in boring threads. We are big believers in good vibes, good karma, and good (sometimes questionable lol) threads for the whole fam.
We love to pay homage to the legends that came before us - whether it's Music Legends, Sports Legends, TV Legends... you name it, you'll probably find it in our exclusive bootleg series!
We strongly believe that It's our duty to teach the youngins about all the Legends that came before us, and what better way to do so than through fashion?!